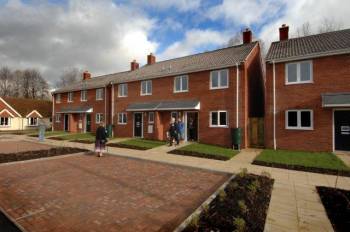 Cherry Orchard, Codford
Rural affordable housing launched by HCA chairman
A new affordable housing development was opened on the 18th November 2010 in Codford by the chairman of the Homes and Communities Agency (HCA), Robert Napier.
Mr Napier visited the homes in Cherry Orchard, which have just been built by Wiltshire Rural Housing Association and were supported by a HCA investment of more than £450,000.
The six properties are built to Level 4 of the Code for Sustainable Homes and meet Secured by Design, Lifetime Homes and Building for Life criteria - making them more environmentally friendly, economical and suitable for residents' long-term needs.
Gill Shell, Chief Executive of Wiltshire Rural Housing Association, said: "The one overriding objective of the design team was to build homes that they would be happy to live in. Since 2004 we have built several projects with increasing green credentials culminating in this example in Codford. We are very proud of what we have achieved here and hope the residents and everyone in the village are also proud.
"We are really pleased that Mr Napier has been able to officially open this project today. We believe that it shows the continued commitment to the provision of rural housing which is so important for the sustainability of our villages."
As part of the project, a nature reserve is being created with the help of Wiltshire Wildlife. Local children have worked in an after school club to build bird boxes and make signs for the reserve. The area is expected to open in the spring when some rescued hedgehogs from Wiltshire Wildlife Hospital will be released into their new homes in the reserve,
Mr Napier said: "This scheme is a really fine example of how our investment can make a difference to the lives of local people.
"By working with local housing providers we can ensure that the resources we have can be used in the best way to meet the high demand for homes in rural areas such as Codford. I am very pleased to have been able to officially open these homes and see for myself their positive impact on the village."
Codford Parish Council has been particularly supportive of the association's work, with the development in Cherry Orchard being the third to be completed in the village, providing 20 homes for local people in the process. The project was also backed by the former West Wiltshire District Council and Wiltshire Council, who provided the land for development.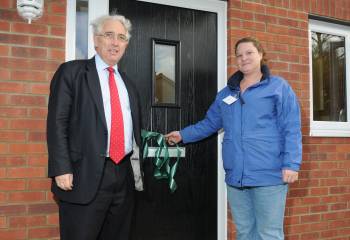 Robert Napier with our tenant cutting the ribbon.