A new tree has been planted to celebrate the completion of an affordable housing development in the Wiltshire village of Whiteparish near Salisbury, which has been named after a popular district nurse.
The seven much-needed homes were built by Wiltshire Rural Housing Association to level 4 of the Code for Sustainable Homes, and meet Secured by Design, Lifetime Homes and Building for Life standards - making them more environmentally friendly, economical and suitable for residents' long-term needs.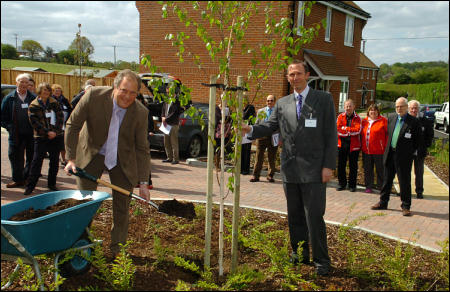 The homes were supported by a £511,000 investment by the Homes and Communities Agency and was backed by the former Salisbury District Council and Whiteparish Parish Council.
The name of the development was chosen as a result of a competition run by the parish council.
Nurse Joan Witchell was a very popular district nurse who served the area over many years.
She delivered many babies in the parish including some of the families of the new residents of Witchell Way and residents have very fond memories of her.
WRHA chair, Richard Kitson described the new development as a "great achievement", as the "need for affordable housing remains as high as ever".
He added: "We need to ensure that whilst retaining a beautiful countryside we also look to maintain a balance of open market and affordable homes to help maintain vibrant villages and thriving rural economies."
The tree was planted by Wiltshire Council housing portfolio holder, councillor Howard Greenman, who also spoke about the importance of affordable rural housing in helping to sustain Wiltshire villages.