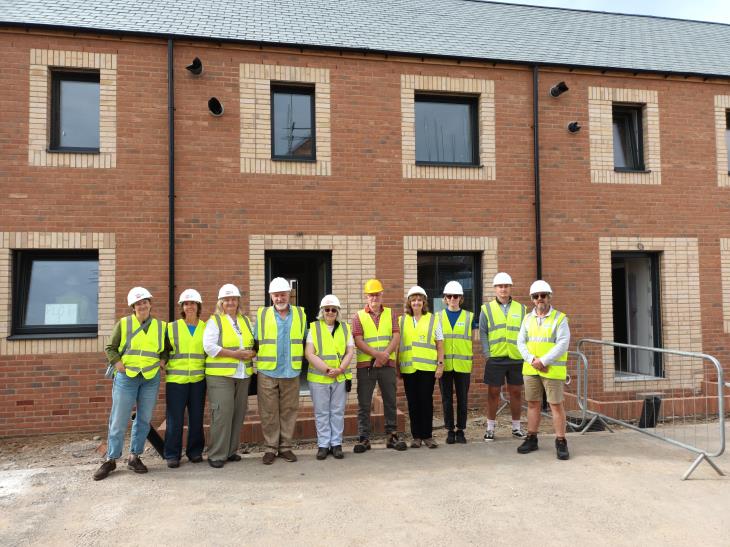 WHITE Horse Housing Association's £2.8 million passive housing project received an overwhelming thumbs up when it was shown off at an open day.
The ten new homes at Hook Hollow in Seend Cleeve, which are due to be completed later this year, have been built to rigorous 'passive haus' standards – which mean they will be incredibly energy efficient, resulting in relatively lower costs for the new residents in a time of high energy prices.
White Horse Housing Association (WHHA) is the development's main funder but it has also been partly funded by Homes England's Affordable Homes Programme, together with a contribution from Wiltshire Council. The project has been run in partnership with Seend Community Land and Asset Trust. The homes were designed by PKA Architects of Potterne and built by Winsley White Builders of Radstock.
The land was made available by the Seend Community Land and Asset Trust in partnership with Seend Parish Council and was identified after a review of many potential sites and a public consultation. The land was bought by White Horse Housing Association and then sold to the community land and asset trust for £1 before being leased back to White Horse Housing Association for 995 years.
Members of the community land trust, WHHA's tenant scrutiny panel, Seend Parish Council and other invited guests were welcomed for refreshments at the nearby Barge Inn before being taken round the development.
The development has four two-bedroomed, one three-bedroomed and two one bedroom homes for rent as well as two three-beds and one two-bed for shared ownership sale. Both the rental and the shared ownership homes will be occupied by families and people with a local connection.
The homes are constructed from pre-cut timber frames which were then assembled, insulated with sustainable wool and sealed with airtight wind and waterproof tape before the exterior was cladded. Thanks to this, and the triple-glazed windows, the homes are completely draught proof and will need just two modern Quantum storage heaters and a heated towel rail inside.
The size of the gardens, the views across the countryside and the layout of the development were among the compliments from the visitors.
WHHA Operations Manager Belinda Eastland said the open day was appreciated by the guests. "The purpose of it was to go back to the community land trust members and to show them what their hard work, determination and commitment to that village had actually delivered.
"There will be another open day before our tenants move in but we just wanted them to see what's been going on in their community since we started the build a year ago."
Community land trust chairman Steve Vaux said:
"It's satisfying to see it come together because it's a good example of a community-led development.
I know of so many couples that have left the parish to start families and would have preferred to stay here. The rural life is a lifestyle choice really but for those folks who want to start a family who can't afford the property, it's not a lifestyle choice, it's an economic choice to move out of the parish.
All we're trying to do is to service that need, that small amount of need."
Among the guests at the open day were community land trust members Colin and Jo Waldeck, who celebrated their 56th wedding anniversary that day. He said: "We really liked the houses, they looked well designed. They obviously fulfil a need, particularly for young people that can't afford houses in Seend."
For more details about housing association or to get in touch, go to whitehorsehousing.co.uk.