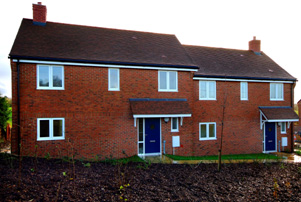 The seven homes were completed in early December 2009 on land acquired from Salisbury District Council. The tenants, all of whom had strong local connections were able to move in and get settled in time for Christmas.
The homes have been designed to meet Sustainable Homes Code Level 4 which means that they meet a number of design criteria.
Lifetime Homes
Secure by Design
Building for Life
The homes benefit from high levels of insulation, sound proofing and heat recovery ventilation systems. Low energy light fittings and a number of water saving features are also incorporated into the homes together with an air source heat pump to provide heating and hot water. All these factors together should result in very low running costs.